Aislan of Lion King is available for breeding!
Please contact us for more information and a copy of our breeding contract.
Proven in Lineage
Aislan is a DNA verified son of the famous Lion King (PO lines) and has Fred Walker bloodlines on his dams side. He stands 14.3+hh and is just beautifully built like his sire, Lion King: strong joints, wonderful bone, and a compact, short back. He has a lovely head, with expressive ears and has one and a half blue eyes. Aislan has outstanding action to match his outstanding temperament.
Proven in Get
Aislan has produced some superb Drum and Gypsy foals - although this was only to be expected as he is descended from the finest gypsy cobs. He has already marked his stamp on the Gypsy breed, passing on his exceptional conformation, movement and feather. Additionally, Aislan is homozygous for the tobiano gene so will always produce colour, no matter what he is bred to. His colour genetics are: TT/EE/aa.
Proven in Performance
Aislan is one of the very few stallions that actually competes in performance classes at shows. He does well in halter classes too - always in the top three and has several Champion, Grand Champion and
Supreme Grand Champion ribbons to his name. MORE important, he also competes as an ALL AROUND, ATHLETIC Gypsy. He has placed well in WTC, Equitation, Hunter Hack and Obstacle. 2010 marked his debut as an eventer with two first place wins in his division. He has turned out to be a lovely jumper and dressage horse. Aislan has also completed his driving training at Good Hands Training with Tom O'Carroll. He is amazing in harness! Aislan is one of the BEST PERFORMANCE STALLIONS in the USA.
Aislan is extremely gentle and sweet in nature - the epitome of what a good Gypsy stallion should be.
More Photos
Click on a photo to view a larger version.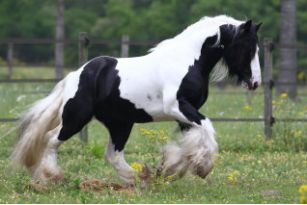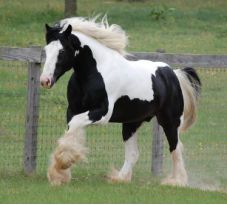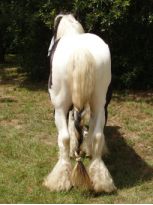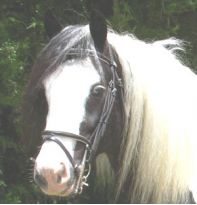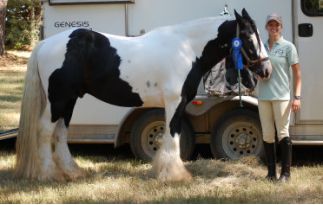 Videos
Pedigree
Aislan of Lion King
(import)
Lion King
Black & White Stallion
Robert Watson\'s Horse
Foundation Stock
P.O. Mare
Old Henry
Old P.O. Mare
A Fred Walker Mare
Foundation Stock
Foundation Stock
Foundation Stock
Foundation Stock
Foundation Stock
Foundation Stock
Pedigree generated by PedigreeQuery.com