Aurianna is sold!
Congratulations to Bethany Woodward of Tennessee!!!
Auri and Lexi are two full sisters that were imported by BFSGH. They are by the Gypsy Stallion, Bruno and out of a Bay Shire Mare. Auri is 15.2hh, stout, big boned, heavily feathered, and is a very nice mover. Auri is a quiet mare that loves to be groomed and fussed over. Her foals are cute and curious and inherit their mother's sweet disposition. Auri has had three adorable bay tobiano Drum foals.
Auri is a farm favorite and we have made the tough decision of offering her for sale to the right home. She is too short coupled to carry the large Drum foals we are producing. Auri is a fantastic mother and could continue her career as a broodmare producing Foundation Drums or other smaller cross-bred foals. She CANNOT be bred to any stallion larger than she is. Her heavy bone, lovely movement, and colour would add character to any cross. She has been a broodmare in her years here at HFF, but did have some driving training before she came to us. Auri is now green broke under saddle (as of August 2016), she is very willing and quiet under saddle. All she needs is some miles and she will make an excellent trail or show horse! Auri's price will go up as she gets more training under saddle!
More Photos
Click on a photo to view a larger version.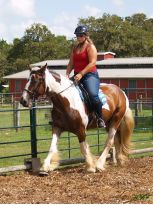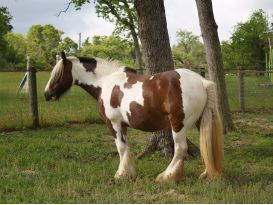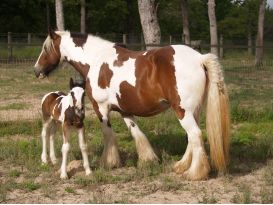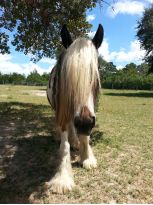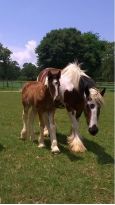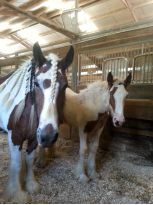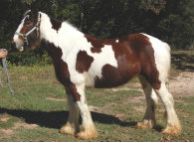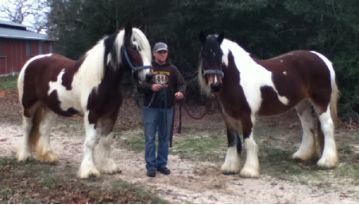 Videos
Pedigree
Aurianna
Bruno
(Gypsy)
Foundation Stock
Foundation Stock
Foundation Stock
Foundation Stock
Foundation Stock
Foundation Stock
Bay Shire Mare
Foundation Stock
Foundation Stock
Foundation Stock
Foundation Stock
Foundation Stock
Foundation Stock
Pedigree generated by PedigreeQuery.com