_Avalon's King Arthur x Xena Warrior Princess Foal is for sale! Please contact us for more information.
Contact us for pricing.
These two Drums never fail to give us lovely and unique foals. This will be Arthur and Xena's fourth Drum foal and it is bound to be athletic and super friendly! Lots of color possibilities and a 25% chance of being homozygous tobiano! Due October 23, 2017.
More Photos
Click on a photo to view a larger version.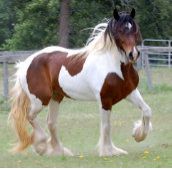 Pedigree
Horse Feathers ???
Avalon's King Arthur (Drum)
Clononeen Ard Ri (Gypsy)
Foundation Stock
Foundation Stock
Lady Abbigial of Avalon (Clydesdale)
Birkey's Pride Bodacious
MacQueen Highland Lady Darroch
Xena Warrior Princess (Drum)
Galway Warrior (Drum)
Edingale Mascot (Shire)
Drum Mare
Pippen (Drum)
Glatstopper (Drum)
Nellie (Clydesdale)
Pedigree generated by PedigreeQuery.com