Horse Feathers Brynn is sold!
Congratulations to Christopher Loveless of Texas!
Beautiful Brynn! This is a tall and elegant filly that will make a great dressage prospect. She will be tall, finishing out well over 16hh, and I think closer to 17hh. Very easy to work with.
More Photos
Click on a photo to view a larger version.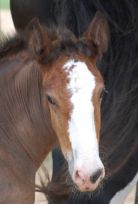 Pedigree
Horse Feathers Brynn
Avalon's King Arthur (Drum)
Clononeen Ard Ri (Gypsy)
Foundation Stock
Foundation Stock
Lady Abbigail of Avalon (Clydesdale)
Birkey's Pride Bodacious
MacQueen Highland Lady Darroch
Abbeyfeale Carmen (Shire)
Wandamere Humphery Bogart
Boringdon Devon Friar
Wandamere Peggy
Cold Acres Crystal Ice
Walton Troop Leader
Halesview Agnes
Pedigree generated by PedigreeQuery.com