The saga of Dante has come to an unfortunate end, when he went in for his third hernia surgery we discovered that his entire abdominal was too thin, so no matter how many times we repaired his hernias, his abdominal would keep rupturing. This resulted in the tough, but necessary, decision to euthanize him. We tried everything we could to give this sweet boy a chance at life, but unfortunately his body was not able to keep going. Rest in Peace sweet boy.
The saga of Dante: this fellow was born the day after a fire on our back 40, hence the name Dante…. Around his 1 month birthday, we noticed his umbilical stump was not healing properly, his ultrasounds appeared normal, but his white cell count was through the roof! SO, we took him to the vet for monitoring for a weekend (both Rebecca and Kelsey were not on farm that weekend), with antibiotics his white count was on its way down, but the stump was just unsettling for us and the vet, so we decided to surgically remove it, just to be safe. Good thing we opted for the surgery because Dante had trauma related bruising/tearing from his stump all the way to his bladder, an anomaly for sure, the vet had never seen anything like it. Fast forward through 2 months of stall rest, and he is all healed….not… Dante developed a surgical hernia, which while not entirely unexpected, was still a major bummer. So after he was weaned it was back to the vet for surgery number 2. Stall rest for another 2 months, and a checkup, just to be sure, and he is all healed! Good to go! Thwarted again! Now he has another herniation in a completely different location… So the plan is to wait 2 months for the ring around the hernia to thicken, then back to the vet for surgery number 3. Needless to say, Mr. Dante will be with us for quite a while. Fingers crossed this upcoming surgery will be the last! Dante may be for sale at a later date, once he is completely healed, or he may become a show horse for us here at Horse Feathers. So the saga continues…
More Photos
Click on a photo to view a larger version.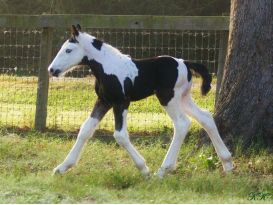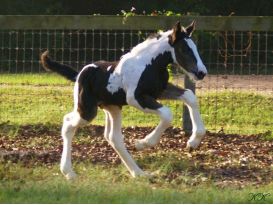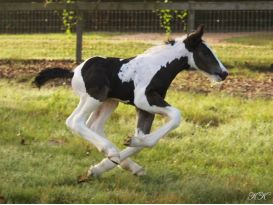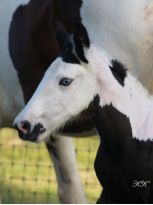 Pedigree
Horse Feathers Dante
Avalon's King Arthur (Drum)
Clononeen Ard Ri (Gypsy)
Foundation Stock
Foundation Stock
Lady Abbigail of Avalon (Clydesdale)
Birkey's Pride Bodacious
MacQueen Highland Lady Darroch
Xena Warrior Princess (Drum)
Galway Warrior (Drum)
Edingale Mascot (Shire)
Drum Mare
Pippen (Drum)
Glatstopper (Drum)
Nellie (Clydesdale)
Pedigree generated by PedigreeQuery.com