Horse Feathers Hercules is sold!
Congratulations to Debbie Morris of CA!
So the plan was for Hercules to be a filly. Needless to say, that didn't happen. This is one amazing boy! Super friendly, super (super) hairy and just easy to work with. He stands straight and correct and is handled daily.
More Photos
Click on a photo to view a larger version.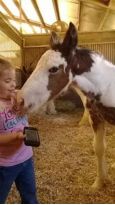 Pedigree
Horse Feathers Hercules
Aislan of Lion King
(Gypsy)
Lion King
B&W Stallion
P.O. Mare
A Fred Walker Mare
Foundation Stock
Foundation Stock
Tu-Shea
(Clydesdale)
Northwest Glenords Shea
Nothwest Glenords Patrick
Northwest Aristocrat Jodi
Cee Cee Final Command
Ayton Final Command
(GB)
Belleau K.C.
Pedigree generated by PedigreeQuery.com