It's a BOY!!! This is a striking colt! He is a bay tobiano and is likely going to roan like his mother. He is E_AaTt and most likely W20- as well! PSSM negative through parentage. He has two partial blue eyes and a super sweet personality as all of Robyn's foals do! He is the first one of Robyn's foals that we are offering for sale, we have kept the other two!
At one week old Jericho had to have some minor surgery to help his front legs straighten up a bit. He is perfectly sound and will be offered for sale once he is all healed!
We are very excited for this foal! This will be Xander and Robyn's first foal together. Robyn has had 2 spectacular foals with Arthur, so there is no doubt that her foals will be just as great with Xander!
More Photos
Click on a photo to view a larger version.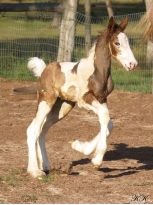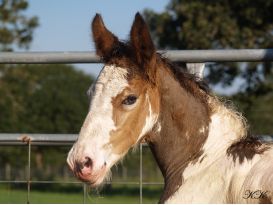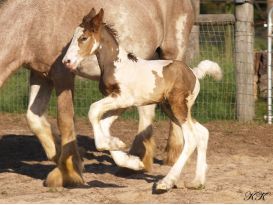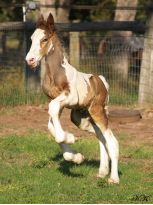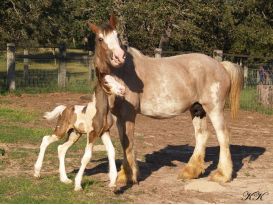 Pedigree
Horse Feathers Jericho
Alexander the Great PRR (Drum)
Galway Warrior (Drum)
Edingale Mascot (Shire)
Drum Mare
Pippen (Drum)
Glatstopper (Drum)
Nellie (Clydesdale)
Robyncroft Loralai (Clydesdale)
SBH Phoenix (CN)
Greendykes Sherman (GB)
Emerald's Lucky Lady
Langbank Madam Iris (CN)
Belleau Annette's Adam (CN)
Willoway Jodi II
Pedigree generated by PedigreeQuery.com