Horse Feathers Lottie is sold!
Congratulations to Debi Bruggemeier of Indiana!
Our lovely, adorable, and kissable Lottie is off to Indiana! She will have a great home with Debi and family. Congrats on such a lovely filly!
Update: Lottie turned out to be too big for Debi and has been sold to Cyclone Gypsy Horses in Canada. Her new owners are thrilled with her size, conformation, and breeding!.
More Photos
Click on a photo to view a larger version.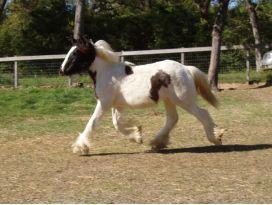 Pedigree
Horse Feathers Lottie
Aislan of Lion King
The Lion King
Foundation Stock
Foundation Stock
A Fred Walker Mare
Black & White Stallion
P.O. Mare
Horse Feathers Hope
Tyson
Foundation Stock
Foundation Stock
Foundation Stock
Foundation Stock
Foundation Stock
Pedigree generated by PedigreeQuery.com