Ryder's Copper du Vallon is sold!
Congratulations to Lois Thomas of PA!
On Consignment:
"Beau" is a very nice Casper du Vallon son that is a "been there - done that" kind of guy. Goes English and Western and started side saddle. His owner has also jumped him over small fences, nothing too big, something we will explore further! He was gelded back in September and has been turned out with other geldings and is currently turned out with his own 2 year old stud colt.
Beau is what I call easy and uncomplicated. For beginners, he goes at your pace. Want a bit more horse? Just ask him. Nicely responsive to leg aids. Needs work on lateral aids, but we are developing those. He is level headed - we took him through our obstacle course (tires, noodles, pedestal) and he did it first time. His owner spent a lot of time on this boy as a stallion and circumstances force his sale through no fault of his own. He is great on trails. Just a super, all around boy.
Standing 16.2hh (certified), bay and white, very petite head and ears. Stands nicely for the farrier, bathing and is easy to trailer. He has been hauled to many shows and fun days. Don't miss out on this super nice, quiet boy!
More Photos
Click on a photo to view a larger version.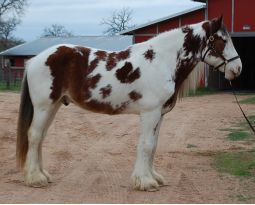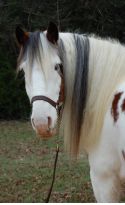 Videos
Pedigree
Ryder's Copper du Vallon
Casper du Vallon
(Drum)
King Rocky (Drum)
Not on file
Not on file
Ally Mo
(Gypsy)
Foundation Stock
Foundation Stock
MacQueen Highland Lady Cameron
(Clydesdale)
MacQueen Highland Knight
King Classic Footpring
Katlyn Queen
Bri-Mar Lady's Nell
Benedictine Gold Nugget
Kaladar Miss Maria
Pedigree generated by PedigreeQuery.com