Sandy Ridge Tam Lin is sold!
SANDY RIDGE TAM LIN - Canadian #M35718
ON CONSIGNMENT
Beautiful 2015 black sabino registered Canadian Clydesdale stallion. Coveted Armageddon
breeding on the top and Donegal bred on the bottom.
Lots of color, heavy silky feather and correct confirmation. Tam Lin
has the classical blaze and four white socks of a traditional
Clydesdale, plus lots of body white if you are breeding for pinto
drafts, spotted draft crosses or Drum horses. He is already 16hh at 1.5 years old!
Eligible to be a "Foundation" stallion for several Drum Horse
registries. Also eligible to produce registered Pinto Drafts when
crossed to light horses.
Both parents have been successfully shown and are 18h and 17.3h.
Tam Lin has had recent 60 days professional training with Cornerstone
Training Center in Scurry TX. Easy to handle, loves baths, loads great, excellent with his feet for
the farrier - no stocks needed.
He is beautiful, passive and playful.
Tam Lin is a perfect gentleman, easy for women or novices to handle -
not studdy at all. He's got heavy feather, massive feet and should
easily reach 18hh like his sire.
Tam Lin is a high quality stallion prospect who will positively influence
your breeding and show program and take it to another level. He would also make a fantastic hitch or riding gelding.
He came from a large Clydesdale farm in Canada that specializes in
quality black hitch horses.
Additional pics and video on request. Located in Argyle, TX (N of FTW)
More Photos
Click on a photo to view a larger version.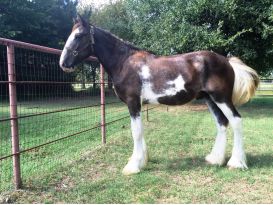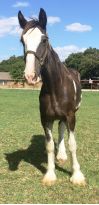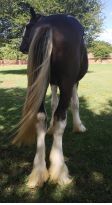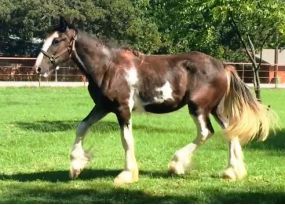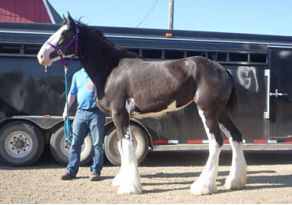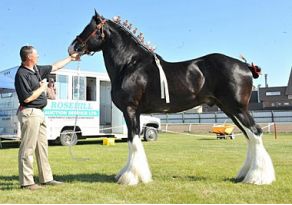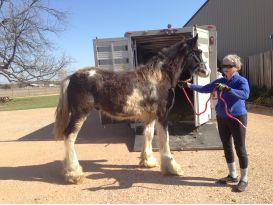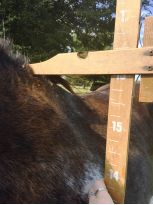 Pedigree
Sandy Ridge Tam Lin
Amethyst Hayden
(CAN)M34585
Grandview Sire El Capitan
(CAN)
Armagegedon\'s Lord Elijah (USA)
Maitland River June (CAN)
Amethyst Ashley
(CAN)
Ayton Black Prince (CAN)
Battle River Whitney (CAN)
Bonnie Brae Black Bacardi
(CAN)F73649
Karvelton Mac\\\'s Classic
(CAN)
Tartan Macleod (CAN)
Barbrook Cricket (CAN)
Bonnie Brae Black Velvet
(CAN)
Donegal King David (CAN)
Bonnie Brae Crystal Bell (CAN)
Pedigree generated by PedigreeQuery.com