Xena Warrior Princess is for sale! Please contact us for more information.
Offered at $10,000 individually OR $13,000 PACKAGE DEAL WITH CORA.
Xena is a lovely, personable mare that has been in our breeding program for the past 4 years. She produces great foals with fantastic personalities, but we have decided it is time to switch up our broodmare herd, we have so many Galway Warrior girls, it is time to spread the Warrior wealth! Xena is a lovely F2 Drum, a daughter of the great Galway Warrior and a proven broodmare. She is easy to breed and easy to foal. She is a fantastic mother and takes great care of her foals. Xena is also broke to ride, she is USDF and IDHA registered, she has not been ridden in the past 4 years while she has been a broodmare, but with a quick tune up she will be good as new! Xena is 16.2hh and her genetics are E_AaTt PSSM n/n. Broodmare, show horse, or trail horse, this mare can go in any direction you want to take her!
Xena is currently offered for sale at $10,000 individually or as part of a DEAL OF A LIFETIME!
DEAL OF A LIFETIME: For a limit time only Xena is offered for sale in a package deal with her Fall 2017 filly, Horse Feathers Coraline. Cora is a feminine black filly with a lovely head and refined conformation. She is super athletic and is a 4th generation Drum! Her genetics are E_aatt and PSSM n/n. She is Arthur and Xena's LAST FOAL! $13,000 gets you both Xena and Cora, two fantastic girls, what a deal!
More Photos
Click on a photo to view a larger version.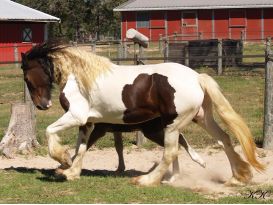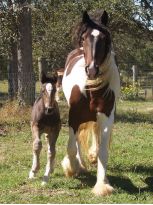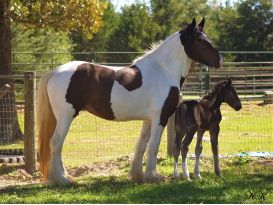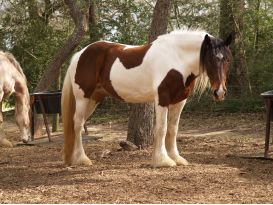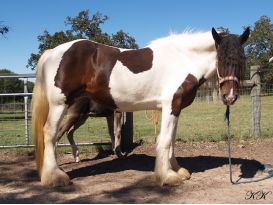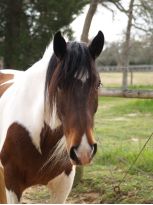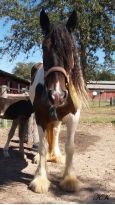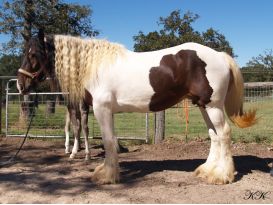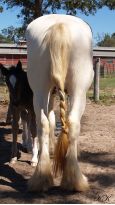 Pedigree
Xena Warrior Princess
Galway Warrior
(Drum)
Edingale Mascot
(Shire)
Grangewood William
Edingale Lady in White
Drum Mare
Foundation Stock
Foundation Stock
Pippin
(Drum)
Glatstopper
(Drum)
Foundation Stock
Foundation Stock
Nellie
(Clydesdale)
Foundation Stock
Foundation Stock
Pedigree generated by PedigreeQuery.com