These stallions are currently standing at stud here at HFF. Some are our own boys that live here year round, some stay for the breeding season only, and some are simply collected and shipped from HFF. Check out each stallion's page for on farm, shipped cooled, and frozen semen availability.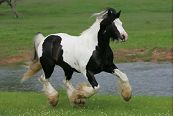 Aislan is a DNA verified son of the famous Lion King (PO lines) and has Fred Walker bloodlines on his dams side. He stands 14.3+hh and is just beautifully built like his sire, Lion King: strong joints, wonderful bone, and a compact, short back. He has a lovely head, with expressive ears and has one and a half blue eyes. Aislan has outstanding action to match his outstanding temperament.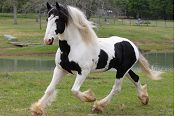 Xander is homozygous tobiano, stands a solid 17.1hh, and has impressive presence. This sweet boy has an amazing temperament and the athleticism to compete at the upper levels in dressage. His foals are guaranteed to have the color, movement, and size to make spectacular performance Drums! Xander has moved to New Zealand! We have frozen semen available.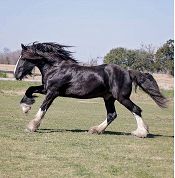 Legend is a homozygous black, 16.3hh Shire stallion with fantastic movement, conformation, and feathering. He is an experienced driving horse and has won titles at both the Colorado National Shire Show and the LA Western Regional Shire Show. He is owned by Senna Woest of 3rd Day Ranch, and is currently standing at stud here are HFF.